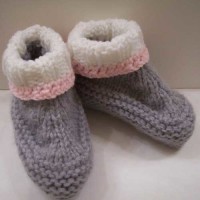 These bootie slippers are really easy to knit and the pattern includes 6 sizes which is helpful if you knit for charity or estranged relatives.The slippers shown here are knitted in some worsted I had hanging around and held double. Using two strands of worsted makes for a firm slipper but next time I'll probably use one strand of worsted with sport or fingering yarn to make it easier on the hands.
Also, I only work the body of the slipper held double and the cuff with a single strand. I've used some white loopy/fuzzy yarn in white for the contrast cuff shown in the photo. This would also be a good opportunity to use up some old eyelash yarn that probably would be best doubled as it's so thin but would still stretch well.
Here's the link to the FREE PATTERN at Knit Addicted.
At the bottom of the page there's instructions for knitting these for baby by using smaller needles and baby/sport yarn. It's a similar pattern to the one I've posted HERE except the center front is worked differently. Enjoy!