We all have our favorite slippers, don't we? While searching for new slipper patterns I came across The Pink Slipper Project that brings together knitters, crocheters and seamstresses to make slippers and washcloths for domestic abuse shelters. These are sewn but I also like to knit and crochet them as well….especially baby booties because they are just so darn cute!
Here's some slippers that I've made from free patterns posted by other kind people that make wonderful things and donate them to charities.
From left to right:
Some cute flannel with cotton knit back and lining from the same pattern for preteen girls. I quilted the top with cotton batting.
Toddler size with cotton flannel vamp and fleece back and lining. Soles are cotton knit.
"Sketchers" hoodie upcycled into teen slippers. The rhinestone heart is perfect! I usually cut t-shirts into strips to use as the binding but for this pair and the "Chix Rule" pair I had some sparkly lycra that worked ok even though thinner than cotton jersey.
Toddler boy's style in corduroy. I used felt circles rather than buttons as they are not easily removed.
Ok, and now for THE FREE PATTERN that is really easy to sew. Most of the work is in the cutting.
http://ldsmomtomany.blogspot.com/2010/12/free-fleece-slipper-pattern-adjust-size.html
If you print it out as is the sole is about 4″. I printed it out using the "fit to page" option using FastStone Image Viewer ( a great and FREE program) and the sole is 6-1/2″ which is what I used for the toddler size. I didn't enlarge all the sizes but here are my ratios and the size listed allows for a 1/4″ seam. These are all enlarged from the 6-1/2″ size pattern.
Sole length:
8 inches (pre-teen) – 130%
9-1/2″ inches – 150%
10-1/2 inches – 160%
As I went up in size, the sole seemed pretty wide and that might be because of my original print option of "fit to page." I'll try it again without scaling the original and revise this post if the sole is different. Another thing to take into consideration is your choice of fabric. The original pattern calls for using fleece for outer, lining and soles. My first prototype consisted of a cotton/lycra fabric and it's quite stretchy so if you go that route you would want to make the slipper the same size as your foot or smaller and eliminate seam allowances. I used fleece or cotton knit as the back piece on all but the corduroy which I cut on the bias so it would be somewhat stretchy. The pattern is designed so that the back piece stretches to fit around the sole so consider that in your design. I used upholstery fabric for a few of the soles so basically the slipper was made from wovens with only the back piece in knit. This results in the heel sloping inward and hopefully maintains a good fit when walking.
And finally, here's another style from a free pattern that is also easy to sew and she includes a number of sizes for adults and children. Scroll down to "Frog Slipper II" for the pdf file.
http://www.p2designs.com/images/patterns/sox-FrogSlipper.html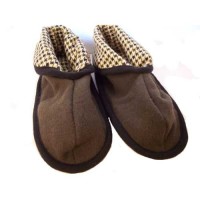 The upper is wool, the lining in cotton flannel, the soles are from upholstery fabric and the edges are bound in cotton fabric from t-shirts. I cut the shirts into 1-1/2″ strips and sew them to the bottom of the sole, the right side next to the sole, in a 1/4″ seam. Then I flip it over to the top side, roll the raw edge under and topstitch. It's really not necessary to pin. Oh, I also start at the back and just overlap the strip by a 1/2″ or so. I find the t-shirt jersey is just the right weight for binding and it folds over the 4 layers of sole and vamp with ample fabric to turn under and stitch down at the curves.